Know Your Choices Regarding Burial Options at Cemeteries in Kent, WA
The Archdiocese of Seattle Catholic Cemetery in Kent, WA, is a beautiful place where those who died can lay in peace. With years of experience caring for families from all walks of life, we guarantee you will feel the love, hope, and comfort. People buried here can pass on their religious principles to future generations. It can be your wonderful present to them. We're here to assist you. You can give us a call any time, day or night. Just dial (253) 838-2240.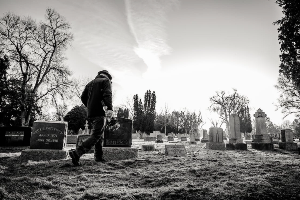 There are several ways sacred burial might be completed at Catholic associated
cemeteries in Kent, WA, and surrounding areas. The Catholic faith's belief in an eventual resurrection inspires a deep reverence for the deceased human form. The body should be cared for with great respect to preserve the dignity of the person who has passed away. Knowing what choices are potentially available to facilitate a burial in line with these beliefs can bring comfort to those facing death.
Full Burial and Cremation Graves: Traditional burial on the earth dates back many centuries. Graves for any sized coffin can be purchased to facilitate this form of final disposition. In-the-ground burial is not necessarily limited to only whole remains, however. A cremated body can also be respectfully interred in an urn plot. This smaller grave receives the cremation urn much as a traditional grave would hold a coffin. Outer burial containers and vaults are often required to add stability and protection to earth-bound graves. Cremation vaults are used in urn plots, while standard burial vaults hold caskets.
Columbaria Niches Offer Another Option for Cremated Bodies: If you would rather not bury the ashen remains resulting from cremation, you could also respectably bury them in a columbarium. These columbaria structures house individual niche compartments that can be sealed up after receiving inurned remains. Entombing the remains this way can be especially helpful in areas with limited earth plots for urn burial.
Placement and Burial Services at the Cemetery: You can work directly with the cemetery to schedule your needs with burial services and place remains at the plot or space you have purchased. If you are working with a funerary provider, they may include this service in their deathcare packages. Getting the services planned so that the grave is opened and closed correctly will help your difficult day run a little more smoothly.
Designing a Memorializing Monument for Cemeteries in Kent, WA
Memorializing someone we loved by marking their grave is often a supportive help to those mourning this loss. As you work out your grief, having a place to visit to feel close to your loved one can be incredibly cathartic. There are so many options for designing a monument for the grave at cemeteries in Kent, WA. Here are just a few things that you might consider. Please remember to verify what regulations and specifications are required for the exact location for which you are ordering a marker.
Classic Flush Lawn Grave Memorials: A classical option that continues to stand the test of time is a low-profile flush lawn marker. In some sections and cemeteries, these are required as they can help the maintenance and ground crews who need to efficiently care for a large amount of acreage in their keeping.
Upright Monuments for a Stately Memorial: An upright monument is a higher profile headstone or memorial option that can add dimension and visual interest. These can be almost statuesque at times. With more surface area, additional inscriptions could be added to the piece.
Inscriptions, Adornments, and Memorial Portraits: What truly marks a grave as unique is what is defined on the marker. Carefully consider these most critical details that could honor your loved one well. Beautifying and personalized details can be added to make the feature unique. Some pieces lend themselves well to having a portrait or image added to the stone.
Monument and Memorial Setting and Installation: Having professional support to design, create, and set your piece when installation time arrives is crucial for having a monument that functions as you would hope and expect. Working with professionals familiar with the rules of your chosen cemetery can also help you avoid costly errors and headaches regarding what is acceptable and what is not.
Pre-Select and Purchase Burial Sites Before They are Needed
Making funerary and death care plans ahead of time is a good option for practically everyone. When it comes to the burial aspect of these preplans, your grave space can be purchased now. If it remains unused for many years, it all the better since the cost savings of buying now will likely be substantial over that time. It is a good idea to work with your closest relative in this decision since they will be visiting your burial place after you pass and may also choose to be buried near you.
A Place of Sacred Serenity Brings Peace
As you are doing the work of selecting cemeteries in Kent, WA, give yourself a chance to see the serene establishment at St. Patrick Cemetery. Our grounds are open and available year-round for you to come by and visit this sacred and peaceful place. So come and see what is available at S 204th St & Orillia Rd S, Kent, WA 98032. Call (253) 838-2240 to inquire about space within or to schedule placement.
Cemetery FAQs
Do Cemetery Plots Increase in Value Over Time? 
Like any other property, the value of cemetery plots can go up or down over time depending on a number of factors. The overall health of the economy is a big driver of property values, and since cemeteries tend to be pegged to land prices, they can be affected by local market conditions as well. Other factors that can affect the cemetery plot values include the age and condition of the cemetery itself, who the owners are, and how close it is to urban areas. 
Will a Cemetery Buyback Plots? 
Yes, some cemeteries may offer a buyback program for plots. Typically, the cemetery will purchase the plot from the person who purchased it at the original cost. Usually, cemeteries have a finite amount of land and, when it is sold out, no more burials can take place. If the space is bought and donated back to the cemetery, that space may be resold to another person. However, most cemeteries have policies in place that state that if the original purchaser of a plot dies, the rights to that plot go to the spouse or next of kin. If there is no spouse or next-of-kin, the cemetery plot reverts to the cemetery. 
Are Family Members Allowed to Visit Veterans' Gravesites Whenever They Like? 
Yes, family members are allowed to visit veterans' gravesites whenever they like. There is no set time or date that families can visit. However, the cemetery may have some restrictions in place such as only allowing visitors during certain hours. Be sure to check with the cemetery beforehand so that you can plan your visit accordingly.