Different Styles of Burial at Cemeteries in Seattle, WA
When we die, it means that we have left this world and gone to the next one. Our traditions show that we believe in life after death. This is an important belief to us. Making choices about what will happen when you die is a great gift you can give your family. If you need help, the Archdiocese of Seattle can provide assistance to you and your family. We have been serving the local community in Seattle, WA, for many years now and continue to maintain our caring reputation. Give us a call today at (206) 522-0996 or schedule a visit to our Catholic cemeteries.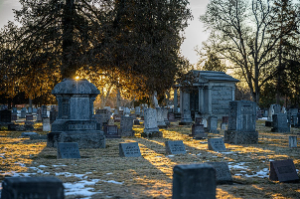 Burial is a respected practice for final disposition, particularly in the Catholic faith tradition. With the belief in the future resurrection of deceased persons, the body should be treated with the utmost respect and care as it is laid to rest. Selecting one of the catholic cemeteries in Seattle, WA, such as Calvary Cemetery, will support a sacred burial and offers various possible solutions for the final disposition.
Earth-Bound Graves: Intact remains may receive a full burial in a casket or shroud. Often this style of burial follows a comprehensive funerary service complete with formal viewing of an embalmed body. However, it is perfectly acceptable to have a more streamlined graveside funeral service, either public or private. Cremation burial refers to cremated remains that are buried in the earth. Urn-sized burial plots can be purchased with this disposition in mind.
Mausoleums for Above-Ground Disposition: Full-sized remains in caskets or burial shrouds can be laid to rest above-ground in a mausoleum crypt. Calvary Cemetery offers this impressive burial option if you prefer to have entombment occur without in-ground interment.
Columbarium Burial: Cremated remains can also be placed for above-ground burial in a columbarium niche. The secure compartments are sized to receive an urn. Some columbaria structures are buildings; others are more of a wall. In all cases, the columbaria niches are designed to withstand the elements and will be securely closed after entombment takes place in your specified slot.
Burial Containers: Caskets and cremation urns often hold the deceased or cremated body for burial. Many cemeteries require the use of additional outside burial containers. These are called burial vaults or grave liners. They are made of solid materials that will hold the shape of the grave and prevent large amounts of settling at the gravesite. Keeping the ground more consistent makes maintaining the cemetery grounds much more manageable. Cremation vaults are used to line an urn plot. A full burial vault is used for a casket or shrouded burial.
Burial and Placement Services: Arranging the opening and closing of the grave and coordinating the time of services can be arranged through your funeral provider or directly with Calvary Cemetery. Calvary Cemetery is a Catholic Associated Cemetery of the Archdiocese of Seattle.
What to Know About Selecting Monuments for Cemeteries in Seattle, WA
One of the most important ways to support yourself when selecting monuments to honor deceased persons is to clarify the rules and regulations governing this topic at your chosen cemetery. Don't rely solely on what you have seen at the location; sometimes, the bylaws vary from section to section. All cemeteries in Seattle, WA, will have their own specifications. Here are just a few examples of monument styles and memorial personalization options.
Flush Lawn Grave Memorials: These grave markers are a flat presentation level with the ground. These are helpful for the ground crews since they are much easier to work around and may be required in certain sections of cemeteries. Though smaller than some monument markers, they can still contain all relevant information and may have room for some beautifying details.
Upright Profile Monuments: Some areas of your cemetery may allow larger headstones and upright monuments. Be certain that you are sure of the dimensions allowed to avoid costly errors and timeline setbacks before you place your order.
Memorial Decorative Inscription, Adornments, or Portraits: The main way monuments, headstones, and grave markers are personalized via inscriptions, adornments, or the addition of portraits. Once you know the size of the marker you are working with, you can prioritize which details and décor you would like to have included. Some settings have built-in vases and holders. It is always a good idea to familiarize yourself with cemetery cleaning schedules to know when to have any sentimental decorations removed for safekeeping.
Memorial Setting and Installation: Working with professionals who have the knowledge and experience in this field is valuable for setting your memorial and having it installed properly. Correctly having the site prepared and the stone placed will make it able to stand the test of time. Investing in this piece makes for a beautiful tribute to your departed loved one.
What Part of Sacred Burial can be Planned Ahead of Time?
You can preplan many aspects of final arrangements, including selecting the burial site. One benefit to preplanning these details is sharing the load of the decisions with someone close to you. If you have a close relation who will be buried near you, it makes sense that you may wish to choose that site together. Pre-purchased plots or spaces can often be paid for overtime with reasonable rates. This is not an option when sites are purchased at need.
A Tranquil Place of Rest and Peace
A beautifully maintained place of tranquility and rest can be found at the Catholic associated Calvary Cemetery. This picturesque setting is located at 5041 35th Ave NE, Seattle, WA 98105. If you are looking for cemeteries in Seattle, WA, call us at (206) 522-0996 to learn more.
Cemetery FAQs
Can You Freely Access Cemetery Plot Records? 
Yes. In the United States, each cemetery is responsible for its own records. The best way to access these records is to contact the cemetery directly. Many cemeteries now have websites where you can search for burial information. If the cemetery does not have a website or if you are unable to find what you are looking for on the website, you can contact the cemetery by phone or mail. 
Can Cemetery Plots be Reused? 
Cemetery plots can be reused, but the process for doing so can be complicated. usually, a plot is only reused if the person who currently holds the right to it dies and there are no other family members who would like to bury their loved one in that plot. If you are interested in reusing a cemetery plot, the best thing to do is speak with the cemetery's management. They will likely have specific protocols in place for how this is done and what paperwork needs to be filed. 
How Much Do Cemetery Plots Cost in Seattle, WA? 
The cost of cemetery plots in Seattle, WA can vary depending on the location and size of the plot. The cost of a plot in Seattle can range between $500 to $10,000. You can check this link to find out our cemetery plot costs.