Finding the Right Burial Setting Within Cemeteries in Shoreline, WA
The Catholic Cemeteries in Shoreline, WA, of the Archdiocese of Seattle can help you and your family make choices about what to do with cremated remains. All of the options for burial or inurnment are not available at each cemetery, so it is important to check with your preferred cemetery about your choices. We have years of experience helping people through this difficult time. Our expertise goes beyond what is available elsewhere. Please call us at 888-884-6772 if you need assistance.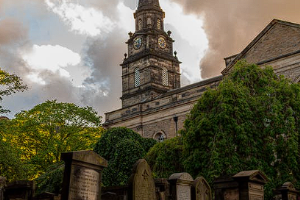 Losing a loved one to death is a complex reality to face. A meaningful way to lay your loved one to rest and support a healthy grieving process is to have a place of permanency for memorialization. If you have a religious tradition that encourages burial, a sacred setting may also support you. Consider finding burial space in one of the Catholic-associated cemeteries in Shoreline, WA, and surrounding areas. Holyrood Cemetery has a wide array of burial solutions available.
Full Burial Graves: In-ground graves are traditional but far from the only option. A full burial may be held after a comprehensive funerary event. The body could be embalmed for preservation to allow public viewing as part of the funeral. The committal of the grave will take place at the actual burial site and time. Burial vaults or other outer burial containers may be mandated by the cemetery you select. These rigid structures aim to keep the grave clean and help avoid large settling pockets from developing over time.
Entombment in a Mausoleum Crypt: Mausoleum crypts are structures built to entomb deceased remains above the earth. Mausoleums have individual locker-like spaces for each set of remains. A community mausoleum is a building or structure that has many of these spaces, while a private crypt may have room for only one or a few bodies. This internment style is an excellent solution for persons who are uncomfortable with earthen burial.
Cremation Graves: The cremated body can rest permanently in an urn grave. As a smaller version of a grave for a full-sized body, an urn plot takes less space since the cremated body is reduced to only a few pounds of fragmented bone matter. Cremation vaults to line the urn plot are often required to meet cemetery regulations for earth burial.
Columbaria Niche for Cremated Burial Above-Ground: The cremated body can also be entombed above ground in a columbaria niche. The structure known as a columbarium may be within a building that you can walk into, or it may be more wall-like in substance. The columbaria are built with many securable compartments that are large enough to hold a cremation urn. Inurned cremated remains will be set within one niche and sealed and marked with identifying information.
Scheduling for Burial and Placement Services: You can work directly with the cemetery to plan your burial needs, including the opening and closing of the grave. However, if you are working with a funeral home or cremation provider, they may be able to assist you in coordinating these details if you would like.
Things to Keep in Mind When Purchasing Monuments for Cemeteries in Shoreline, WA
Marking your gravesite with some type of monument or memorial marker is an ongoing tradition at cemeteries in Shoreline, WA, and throughout the United States and other countries. There are many options; just a few ideas will be covered here. The most important considerations to think about when making this purchase are what is allowable for the grave you are marking, what your preferences are, and your financial constraints.
Flush Mounted Lawn Grave Memorials: A low-profile and classic marker that works in many different cemeteries and sections is the flush lawn grave memorial. Some cemeteries have specific areas where these are required to maintain the grounds more readily.
Prominent and Upright Monuments: More pronounced monuments are often more vertical. There could be room to add additional details or decorative touches to the monument with more surface area. These catch the eye and can make a truly inspiring and impressive memorial.
Memorial Adornments, Inscriptions, and Memorial Portrait Engraving: Many adornments for memorials are entirely optional. At a minimum, you will want to have the name and birth and death dates inscribed. Short phrases such as a motto, scripture, or sentiment are also lovely. If room and regulations allow, memorial portraits could also be engraved on the marker.
Memorial Installation and Setting: Having a professional handle the preparation for setting and installing your memorial will ensure that your piece will present as you intended. With the investment you make for this part of honoring your loved one's memory, these details must be handled correctly.
Making Burial Plans Ahead of Need
Selecting where you will someday be buried and how you want your grave marker to look can be part of the plans you designate ahead of time. Choosing the burial site with your closest relative could support both of you. If you intend to be buried near each other, this can help you purchase the needed space together. Monuments could also be repurchased and, in some cases, set before the death. Payments can usually be arranged for lots purchased ahead of time but must be paid in full before they are used.
A Special Place for Final Disposition
If you are looking for a special place to lay a loved one to rest or your own future burial needs with cemeteries in Shoreline, WA, consider a tour of Holyrood Cemetery. This beautiful and peaceful setting is located at 205 NE 205th St, Shoreline, WA 98155. Call (206) 363-8404 to discuss your needs today.