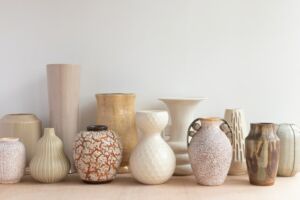 If you are considering cremation for you or a loved one, you may be looking into keeping the cremation urn in a columbarium niche. These structures can be found in many cemeteries in Federal Way, WA as well as cremation gardens and other memorial sites. We are going to talk today about what type to keep in mind when shopping for your columbarium niche cremation urn.
What Type of Niche?
Before you start shipping your cremation urn, it's important to know what type of columbarium niche you will have. The two main types that are typically seen are:
Glass front- This type of niche has a glass front so that the contents of the niche are available for viewing by visitors. Because of this, families may choose a more decorative urn. They may also choose to place small personal mementos or a photograph of their loved one to also be seen.
Metal Front -A metal front niche makes the contents inside the niche not be able to be seen as it is blocked by the metal front. Families may choose to go with a more durable and less decorative urn for this type of niche. These types of niches normally have a place on the outside for families to engrave their loved one's name as well as a short epitaph.
Other Niche Considerations
Other than knowing if the niche is a metal front or glass front niche, you will also need to know the size of the niches to ensure the urn you choose will fit properly inside. Make sure you get the dimensions and know how high the niche is as well as how wide and how deep.
You will also need to check with the location that is housing the columbarium to see if there are any restrictions on what is or isn't allowed. Some columbariums may have rules about certain materials or designs not being permitted. Having a portrait of your loved one on their headstone in cemeteries can be a lovely way to help honor and remember them.
Choosing the Cremation Urn Material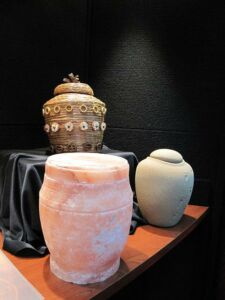 Once you know the dimensions of the niches as well as what type of front face it has and if there are any materials you should steer away from, it is time to start shopping for your cremation urn.
The most popular choices of materials for these types of urns are marble and stone. This is because these are both extremely durable materials and will last for years. Another durable material is metal which makes metal urns also a very widely chosen choice. These urns also make great choices when the niche will be closed and the urn will not be visible to guests.
Glass and other decorative display urns might not be quite as durable, however, they make good choices when the niche contents will be available to be viewed by guests.
Final Thoughts
With cremation becoming a more widely chosen and accepted choice, columbarium niches are also becoming a more popular resting place for cremation urns. These niches are safe and secure and usually found in beautiful cemeteries in Federal Way, WA. This makes it a lovely final resting place for your loved one.