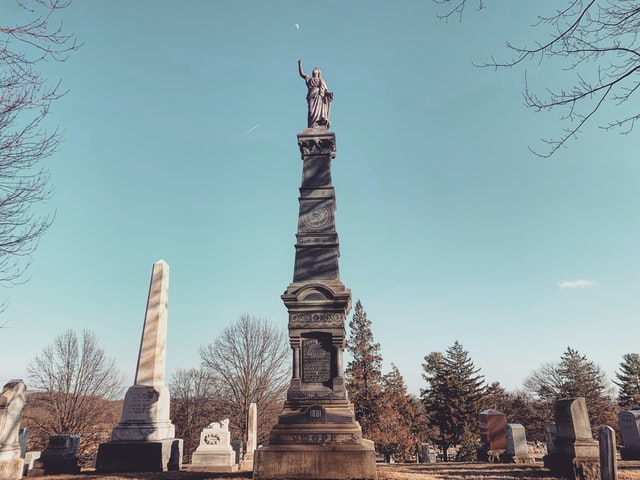 Selecting a headstone can be an overwhelming task. This is because other than the fact you are dealing with the grief and sadness of losing a loved one, this is not a purchase you make every day. And with so many types, materials, and designs to choose from, it can simply be too much. To help ease this process, directors of cemeteries in Bellevue, WA. Share some of the main elements you should pay attention to when selecting a headstone.
Most Common Types of Headstones
Although headstones can come in a variety of types and designs, there are a few common categories that headstones typically fall into. These include:
Flat Headstone – This type of headstone lays flat on the ground. It is typically made from stone, bronze, or concrete and can be inscribed or have an inscribed plaque attached.
Raised-Top Flat Headstone – This type is very similar to the flat headstone in that it lays on the ground, but it is much thicker and is raised in the back slightly to create a sloping front face
Upright Headstone – This is what you most likely picture when you hear the word headstone. It is fixed to the ground and is tall and upright. They can be found made from granite, marble, or limestone with a concrete base that is in the ground.
Kerbed Headstone – You may not see this type as much as some of the others. This type is a monument that is full-length and lays flat on the ground over the grave. It can be used in combination with an upright headstone
Most Common Headstone Materials
Other than the type of headstone, probably the next biggest element to consider is what material you would like the headstone to be made up of. Each material has its own reasons to choose it as well as reasons to maybe not choose it. For example, marble can be cut easily and can be a beautiful stone but can wear down over time in certain climates. Part of pre-planning will be to check with your preferred cemetery about your choices.
The most commonly chosen materials are:
Granite
Marble
Limestone
Bronze
Stainless Steel
When choosing a material, make sure to talk to the headstone provider about the characteristics of the material to ensure it will meet your needs.
Font Design and Other Embellishments
Once you have the type and material of the headstone selected, you will need to then turn your focus to the design. This includes the font choice for things like:
Full name of the deceased
Date of birth and death
An epitaph or a short message
Other than the words you will want to decide on any extra embellishments or engravings such as an image, symbol, or other design elements. While it may not be easy to preplan your burial arrangements, it is one of the loveliest things you can do for your family.
Final Thoughts
Although selecting a headstone for your loved one can be a daunting task, if you take each element one by one, it can make the process a little easier. Also, remember that you do not have to do this alone. Reach out to another family member or close family friend to accompany you. Having the extra support can make a world of difference. And of course, as providers of cemeteries in Bellevue, WA. we are always here and available to you during this time.